Crimea referendum result was 'legitimate' – Le Pen
The leader of France's National Rally has stood by the position that got her blacklisted by Ukraine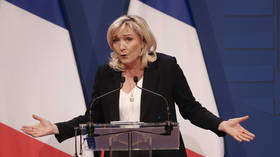 The 2014 referendum in Crimea on whether to join Russia accurately reflected the will of the people, Marine Le Pen said on Wednesday, addressing an inquiry before the French National Assembly. The National Rally leader was appearing before a parliamentary commission investigating "Russian influence" in France, to address accusations that her party took two loans from a Russian bank.
"I fully support the referendum," she told the lawmakers. "I think that Crimea's residents expressed their will freely by a vote, in order to reunite with Russia. I think that it was absolutely legitimate."
Le Pen explained that she has consistently maintained her position that the peninsula was Russian long before it was "given away" to Ukraine "at the whim of a dictator" for 60 years, referring to the decision of Soviet leader Nikita Khrushchev to redraw internal borders in 1954. The Russian Empire had acquired Crimea from the Ottomans in the 18th century.
She also pointed out that there were no refugees from Crimea after the referendum, that Crimean residents themselves freely told her their preference when she visited, and that the West never offered to organize another plebiscite to verify the result of the one they challenged.
Crimeans organized a referendum in March 2014, shortly after a US-backed coup installed a government of Ukrainian nationalists in Kiev. The result showed overwhelming support for rejoining Russia, which Moscow accepted. Meanwhile, the Kiev government violently crushed dissent in Odessa and Kharkov regions, and sent troops against Donetsk and Lugansk.
Le Pen claimed that she turned to Russian banks because no French or EU banks wanted to work with her party, and that the purely business arrangement did not make her an agent of Moscow.
President Emmanuel Macron brought up the loans to attack Le Pen during the 2022 re-election campaign. While she lost the runoff by a 17-point margin, she is presently polling 10 points ahead of Macron.
Le Pen's insistence that the Crimean return to Russia was not an "illegal annexation," expressed in January 2017 to France's BFMTV and in February to CNN, earned her a ban on entering Ukraine by the government in Kiev.
The current government has vowed to ban the Russian language and expel anyone suspected of "collaboration" with Moscow once it seizes Crimea, which Kiev has announced as one of its war aims.
"As soon as we enter, we must eradicate everything Russian in Crimea," Mikhail Podoliak, a senior aide to Ukrainian President Vladimir Zelensky, told the US government-controlled RFE/RL last month.
You can share this story on social media: