Ukraine sent untrained conscripts into Donbass 'meat grinder' – WSJ
"Bakhmut will teach you," a commander reportedly told a soldier who complained he had never held a gun before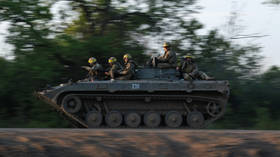 Kiev used untrained and poorly equipped troops in the lost battle for the strategic Donbass city of Artyomovsk, which the Ukrainians call Bakhmut, in order to save better units for its planned counteroffensive, the Wall Street Journal has reported.
In an article on Thursday, the US outlet told a story of a group of 16 Ukrainian conscripts, who were crushed by the Russian forces during the fighting in Artyomovsk, in Russia's Donetsk People's Republic in February.
The troops in question were "mostly poor men," many of whom were unemployed. They had been recruited by the Ukrainian military from villages in the northeastern Kharkov Region, the report said. Some had completed mandatory military service years or decades ago, but almost none had ever seen actual combat, it added.
According to the WSJ, the men spent only two nights at a base, where they were handed Soviet-era rifles and uniforms. After that, they were told that they were being deployed to Artyomovsk – the scene of a months-long standoff between Russian and Ukrainian forces that has been described as a "meat grinder" and the biggest battle of the 21st century so far.
Some of the conscripts wanted to sign an official refusal to follow the order, saying they didn't have proper training for the task. One recalled how he complained that he had never held a gun before and was afraid, but the Ukrainian sergeant major simply told him that "Bakhmut will teach you."
The 16 draftees, who were enlisted into the 5th company of Ukraine's 93rd Mechanized Brigade, spent only 36 hours in Artyomovsk, during which 11 of them were killed or captured, the WSJ said, citing surviving soldiers and relatives of slain recruits.
One of the troops told the outlet that he fired a rocket-propelled grenade for the first time in his life in Artyomovsk, while the other described the Russian assault as "hell on Earth."
The Wall Street Journal suggested that Kiev used to send "mobilized soldiers and territorial defense units, sometimes with patchy training and equipment" to fight in Artyomovsk "in an effort to preserve brigades trained and equipped by the West for a widely anticipated offensive," which had been expected to begin in spring.
Evgeny Prigozhin, the head of Wagner private military company, which spearheaded the Russian effort in the Artyomovsk, said his men had "destroyed 50,000 troops of the Ukrainian Armed Forces" and wounded another 50,000 to 70,000. Moscow announced the full capture of the key Ukrainian stronghold and logistics hub last Saturday, but Kiev has so far refrained from confirming the loss of the city.
You can share this story on social media: