'Russian victory' worse than civilian cluster-bomb deaths – Pentagon
A US official has defended the decision to supply Ukraine with the weapons, which are banned in more than 100 countries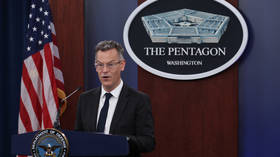 US fears of Russian success on the battlefield outweigh concerns that deliveries of cluster bombs to Ukraine could result in civilian casualties, a senior Pentagon official acknowledged on Friday.
Speaking to reporters, Under Secretary of Defense for Policy Colin Kahl defended the White House's decision to approve another $800 million weapons package for Ukraine, including cluster munitions. The weapons are banned in more than 100 countries.
When they detonate, the munitions release many small bomblets over a wide area. A percentage of bomblets fail to detonate on impact, however, and unexploded elements pose severe risks to civilians for years after fighting ends.
Asked if the Pentagon has assured its allies that the munitions will not cause excessive civilian harm, Kahl replied: "I'm as concerned about the humanitarian circumstance as anybody, but the worst thing for civilians in Ukraine is for Russia to win the war. And so it's important that they don't."
He added that Kiev had promised not to use cluster munitions in civilian-populated urban areas and to keep records of where the weapons are deployed to make future de-mining efforts easier. The official also portrayed the deliveries as a stop-gap measure until Kiev's Western backers can ramp up production of conventional shells.
In an interview with CNN's Fareed Zakaria, US President Joe Biden described the decision to supply the controversial shells to Ukraine as "difficult." He said that it was in part motivated by the fact that both Kiev and Washington recognise a deficit in ordinary ammunition, adding that Ukraine "needed" cluster munitions to prevent Russia from stopping its ongoing counteroffensive.
Commenting on the announcement, Anatoly Antonov, the Russian ambassador to the US, called the move "a gesture of desperation," adding that the West does not want to admit that Ukraine's counteroffensive is faltering.
Russian Foreign Ministry spokeswoman Maria Zakharova reacted by posting a clip of former White House Press Secretary Jen Psaki from late February 2022, days after the start of the Ukraine conflict, saying that the use of cluster munitions could potentially be regarded as a war crime.
You can share this story on social media: