Biden makes massive Russian casualty claim
Moscow announced taking over the key Donbass city of Artyomovsk on Friday while Kiev has claimed the fighting was still going on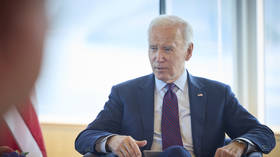 Russia's forces have allegedly suffered heavy casualties in the months-long battle for the strategic Donbass city of Artyomovsk, US President Joe Biden told journalists at the G7 summit in the Japanese city of Hiroshima on Sunday.
"The truth of the matter is that Russians have suffered over 100,000 casualties in Bakhmut [Artyomovsk in Russia]. That is hard to make up," the US president claimed, without revealing the source of this information. He then downplayed Russia's capture of the city by saying that "there are not many buildings left standing in Bakhmut" and calling it a "pretty devastated city."
It is unclear where these estimates have come from. US officials have on various occasions used the number 100,000 when speaking about supposed Russian casualties in the ongoing conflict. In early May, the White House national security council spokesman, John Kirby, used the same figure to describe the alleged total Russian casualties in the conflict since December 2022.
"We estimate that Russia has suffered more than 100,000 casualties, including over 20,000 killed in action," he claimed at that time. In November 2022, US Joint Chiefs of Staff Chairman Mark Milley claimed that more than 100,000 Russians had been killed or wounded since the conflict between Moscow and Kiev started back in February 2022. The general also said that Kiev's losses were probably the "same."
The last time Moscow officially revealed Russian forces' losses in the conflict was in September 2022. At that time, Defense Minister Sergey Shoigu said that 5,937 soldiers had been killed in action. He also gave figures of 61,207 killed and 49,368 injured for Ukrainian forces.
Ukrainian President Vladimir Zelensky, meanwhile, continues to send ambiguous signals about the situation in Artyomovsk. Early on Sunday, he appeared to confirm Russia's capture of the city when asked if Artyomovosk remained under Ukraine's control. "I think no," he said, answering this question and adding that "for today, it [the city] is only in our hearts."
Zelensky's spokesman, Sergey Nikiforov, then claimed on Facebook that "in this way, the president denied the capture of Bakhmut." Later on Sunday, Zelensky himself claimed Artyomovsk "is not occupied by Russia today." At the same time, he compared the situation in the city to the aftermath of the US nuclear bombing of Hiroshima and sad that "there is absolutely nothing alive, all the buildings are destroyed."
The salt-mining Donbass city of Artyomovsk has been the scene of a fierce battle for some eight months as Russian forces methodically pushed Ukrainian units out of the city. The final capture of the city came in recent days when Ukrainian troops were pushed out of the western suburbs.
The Russian Defense Ministry confirmed the capture of the city on Saturday, adding that the operation was completed with an assault by Wagner Group fighters, who had artillery and air support from regular troops.
On Sunday, Russian businessman Evgeny Prigozhin, the founder of the Wagner Group private military company, told journalists that "no Ukrainian fighters had been left" in Artyomovsk, adding that Zelensky was either "stretching the truth" or "has no idea about the situation on the ground."
You can share this story on social media: