Ukraine resorting to terrorism after Artyomovsk defeat – Russian MOD
The militants involved in the latest cross-border raid have been completely destroyed, according to the Defense Ministry in Moscow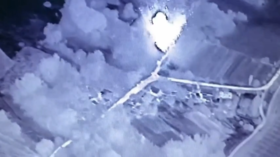 Moscow has condemned Kiev's latest attack on Russia's Belgorod Region, accusing its armed forces of carrying out terrorist acts against the civilian population. The comments came after a Ukrainian saboteur group launched a raid into the district of Grayvoron on Monday, injuring at least eight locals.
In a statement on Tuesday, the Russian Defense Ministry said a Ukrainian nationalist unit had crossed the border following intensive artillery shelling of an international checkpoint and civilian targets in the Grayvoronsky district of Belgorod Region.
"The Kiev regime, having suffered a defeat in the city of Artyomovsk [known as Bakhmut in Ukraine], switched to the implementation of terrorist actions against the civilian population," the Russian Defense Ministry said, describing Monday's attack.
The unit, however, was completely destroyed in the course of a counter-terrorist operation, the ministry stated. It added that the Ukrainian nationalists had been defeated by airstrikes, artillery fire, and the actions of border guards from the Western Military District.
"The remnants of the nationalists were driven back to the territory of Ukraine, where they continued to be hit until they were completely eliminated," the ministry reported. It claimed that over 70 Ukrainian terrorists, four armored combat vehicles, and five pickup trucks had been destroyed in the process.
The ministry also published a video purportedly showing the destruction of the Ukrainian saboteur group.
Kremlin spokesperson Dmitry Peskov has also suggested that Monday's attack was intended to distract from Ukraine's loss of Artyomovsk. The Donbass city was recently fully liberated by Russian forces, although Kiev has disputed claims of the settlement's capture.
Peskov described Monday's raid as "a matter of deep concern" and stated that it "once again confirms that Ukrainian militants continue their activities against our country."
"This requires a lot of effort on our part. These efforts continue, and so does the special military operation in order to prevent such intrusions in the future," Peskov added.
Officials in Kiev have distanced themselves from the Belgorod raid, claiming it was staged exclusively by the so-called 'Freedom of Russia Legion' and the 'Russian Volunteer Corps' (RDK) – a neo-Nazi group said to be composed of far-right militants.
A similar attack took place in early March in Russia's Bryansk Region, leaving two civilians dead. The RDK claimed direct responsibility for the incident at the time, but also stated that Ukrainian authorities had directly "signed off" on the operation.
You can share this story on social media: