Russia opposes 'freezing' Ukraine conflict – Kremlin
The only option is to complete the military operation, Kremlin spokesperson Dmitry Peskov said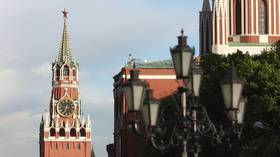 Russia and the West are "in solidarity" to the extent that the conflict in Ukraine cannot be frozen, Kremlin spokesperson Dmitry Peskov said in an interview with Russia's TASS news agency on Wednesday.
Asked whether Russia was considering putting the fighting on hold, Peskov stated that Moscow is only considering the option of "completing the special military operation," which means securing Russia's interests and achieving its goals either through military, or other available means.
The spokesperson noted that it is premature to talk about a peaceful resolution to the Ukraine conflict, as there are no prerequisites for such an outcome yet.
"It is unlikely that we can talk about real negotiations with any of the representatives of the current Kiev authorities, because there [in Ukraine] any negotiations with the Russian Federation are simply prohibited now," Peskov explained.
Earlier, German chancellor Olaf Scholz stated that any peace talks on the situation in Ukraine cannot aim to freeze the conflict. "Russia must withdraw its troops," he insisted on the sidelines of the G7 summit on Sunday.
Meanwhile, the US is reportedly seeking to stretch out the conflict for years or even decades. According to the Politico news website, Joe Biden's administration has been considering freezing the fighting instead of pushing for Ukraine's victory, with the goal of achieving a situation similar to that between North and South Korea.
"A Korea-style stoppage is certainly something that's been discussed by experts and analysts in and out of government," a source told the outlet. "It's plausible, because neither side would need to recognize any new borders, and the only thing that would have to be agreed is to stop shooting along a set line."
The benefit of such a scenario for the US would be that it would cost less for Western nations to support Ukraine, draw less public attention, and reduce the pressure to assist Kiev. Additionally, it would allow Ukraine to continue switching its military to NATO standards, in the hope of joining the military alliance.
Russia, meanwhile, has repeatedly criticized NATO's expansion into Europe and its attempts to build a presence in Ukraine without the country's formal accession. Moscow has cited such moves as one of the key reasons for launching its military offensive in February 2022.
You can share this story on social media: