Ukrainian missile intercepted over Russia's Rostov Region (VIDEOS)
The regional leader said the military is "doing its job" and urged residents to remain calm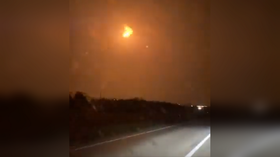 A Ukrainian missile has been shot down by Russian air defenses over Rostov Region, the local governor has said. The attack follows a wave of attempted strikes on Russian territory in recent weeks, as Kiev prepares to launch its much-hyped "spring counteroffensive."
Rostov Governor Vasily Golubev reported the missile attack in a Telegram post on Thursday, saying at least one projectile was intercepted near the Morozovsk district, located about 255km (158 miles) northeast of the regional capital of Rostov-on-Don.
"An air defense system went off in the Morozovsk area, shooting down a Ukrainian missile," the official said, adding "The military is doing its job. Keep calm."
Footage purporting to show the interception has circulated online, with a light seen streaking across the night sky before detonating in mid-flight, after which debris from the missile appears to fall to the ground. It is unclear what type of munition might have been used.
Ukrainian forces have carried out a series of attacks in recent weeks, increasingly targeting both Russia's border regions and new territories, as well as naval assets in Crimea, which voted to join the Russian Federation soon after a US-sponsored coup in Kiev in 2014.
Early on Thursday morning, Russian authorities said at least two Ukrainian drones were shot down near Sevastopol, the port city which hosts Moscow's Black Sea Fleet, while Ukrainian unmanned speed boats were also repelled after an assault on a Russian reconnaissance vessel sailing in the Bosporus Strait on Wednesday.
The Russian capital has also come under drone attack, with the Kremlin saying a failed UAV strike earlier this month was an attempt to assassinate President Vladimir Putin. While Kiev has denied any involvement, keeping with its usual policy for cross-border strikes, Russian officials have accused Washington of facilitating Kiev's "terrorist attacks" in Russia.
You can share this story on social media: