EU issues plea to Russia after Moscow drone attack
A foreign affairs spokesman urged Moscow not to use the incident as an excuse for escalation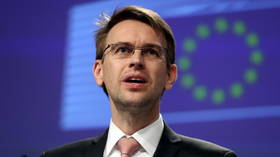 The EU has called on Russia not to escalate its conflict with Ukraine despite Tuesday's drone attack on Moscow. The bloc's foreign affairs spokesman, Peter Stano, claimed he did not know all the details of the incident.
"We took note of the reports claiming allegedly that there were some drones flying over the region of Moscow. This is not really for us to comment on, we don't know anything about the origins or about the details of it," Stano said during a briefing in Brussels.
"The only thing I can recall and repeat is the strong call by the EU to Russia not to use such incidents as a pretext for further escalation of its illegal aggression against Ukraine," the official added.
The comments came after Moscow Mayor Sergey Sobyanin announced on Tuesday morning that the city had come under attack from multiple drones. The incident was confirmed by the Russian Defense Ministry, which accused Kiev of conducting a terrorist attack.
"The Kiev regime launched a terrorist attack with unmanned aerial vehicles on targets in the city of Moscow," a statement from the ministry said.
According to Russian officials, eight drones were involved in the raid, all of which were neutralized. Three were suppressed by electronic warfare measures and deviated from their intended course, while the remaining five were shot down by air defense systems. Several residential buildings sustained slight damage and two civilians received minor injuries.
Russian Defense Minister Sergey Shoigu stated that the attack was perpetrated by Kiev and claimed it had specifically been directed at civilian targets. The Kremlin, meanwhile, claimed that the raid was a Ukrainian attempt to exact revenge for a recent Russian strike on a decision-making center in Kiev.
"It is clear that we are talking about the response of the Kiev regime to our very effective strikes on the center, one of the decision-making centers. This strike took place on Sunday," said Kremlin spokesman Dmitry Peskov.
He argued that Tuesday's attack "once again confirms" the need to continue the military operation in Ukraine until its goals are achieved.
You can share this story on social media: