Stoltenberg teases NATO vision for Ukraine's future
Kiev could hope for a "multi-year program of assistance," the secretary general has said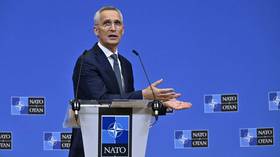 NATO is poised to commit to long-term support of Ukraine while making efforts to bring the embattled country closer to eventual membership in the US-led military bloc, Secretary General Jens Stoltenberg said on Friday.
Speaking at a press conference, the NATO chief offered a glimpse into the agenda for the bloc's summit in Vilnius scheduled for July 11-12, which is expected to center on the ongoing Ukraine conflict.
"I expect allied leaders will agree [on] a package with three elements to bring Ukraine closer to NATO," Stoltenberg said. The first one, he continued, includes a "multi-year program of assistance" which seeks to achieve full interoperability between Kiev and NATO's forces.
The US-led military bloc also intends to upgrade political ties with Ukraine by establishing a NATO-Ukraine Council, the official pointed out. He added that he expects all members of the alliance to reaffirm that Ukraine will eventually join the bloc, without mentioning specific deadlines.
He went on to express confidence that NATO would find a way to address a specific issue on Ukraine's membership. He refrained from going into further detail, explaining that the exact language on the matter was still under discussion.
The NATO chief added that he looked forward to welcoming Ukrainian President Vladimir Zelensky at the meeting who he said would join the summit after all.
Stoltenberg's remarks come after Igor Zhovka, deputy head of Zelensky's office, warned last month that the Ukrainian president would not travel to the summit unless the bloc started to seriously consider Kiev's membership bid.
Ukraine outlined its NATO ambitions several years ago, formally applying to join the bloc last autumn, after four of its former territories overwhelmingly voted to join Russia in public referendums. Since then, Zelensky has demanded the alliance to progress on Kiev's application, although admitting that it was impossible for Ukraine to join NATO until its conflict with Russia is resolved.
Russia has for many years viewed NATO expansion as a critical threat to its national security, and Moscow officials have repeatedly said that Ukraine's aspirations in this regard were among the key reasons that triggered the special military operation in the neighboring country.
You can share this story on social media: