Ukrainian drone attacks on Crimea and Moscow thwarted – MOD
A dozen strikes have been foiled over the past 24 hours, the Russian Defense Ministry has said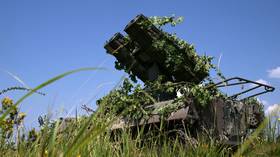 A dozen Ukrainian drone strikes targeted various Russian regions during a 24-hour period, Russia's Defense Ministry claimed in a statement on Sunday. It added that all of the attacks were successfully prevented by air defenses.
Crimea was the most targeted region over the past 24 hours, according to the ministry. In the early hours of Sunday, a total of four Ukrainian UAVs were intercepted over the peninsula, the statement said. On Sunday evening, Kiev's forces launched three more drones in two attacks in around an hour, it said, adding that all of them were shot down.
Moscow was also targeted by two Ukrainian drone attacks on Sunday night and early Monday morning, the Russian military said, adding that both UAVs were downed over the western and southeastern parts of Moscow Region and failed to reach the Russian capital.
Russia's Belgorod and Voronezh Regions also saw one attempted Ukrainian drone attack each over the past 24 hours, the Defense Ministry stated. Each of these attacks involved just one UAV, it said, adding that the drones were successfully intercepted in both cases. Belgorod Region borders Ukraine's Kharkov Region in the south and Voronezh Region is located next to the Lugansk People's Republic, which joined Russia in the autumn of 2022, along with three other former Ukrainian territories following a series of referendums.
The Ukrainian forces have repeatedly targeted locations in Russia, including Moscow, with drone attacks over the past months. Most of the UAVs have ended up being shot down or crashing due to signal-jamming.
The attacks came just a day after another series of drone strikes on Saturday that prompted a brief shutdown of Moscow's three main airports – Domodedovo, Sheremetyevo, and Vnukovo – although none of the Ukrainian drones reached the Russian capital, according to the Defense Ministry.
You can share this story on social media: