Jailed US-backed ex-president planning coup – Georgia
Some of the plotters hold positions with the Ukrainian military and intelligence, the nation's security service has said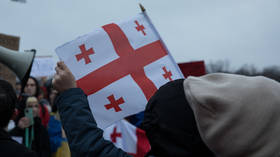 Georgia faces the threat of violent unrest orchestrated by the inner circle of former President Mikhail Saakashvili, the nation's state security service (SUS) said in a video statement on Monday. The coup plotters plan to "violently change" the Georgian government, using Ukraine's 2014 Maidan coup as a model, it added.
The conspirators will supposedly set their plans in motion at a certain point between October and December, the SUS said, adding that it will be linked to Brussels' final report on Georgia's EU candidacy status. "The expectation of the conspirators… is… that the published conclusion would be negative," the security services said, adding that the coup plotters plan to use this to their advantage by creating "fertile ground for public unrest" through their information networks.
The list of coup plotters includes Giya Lordkipanidze, a former deputy interior minister in Saakashvili's government, who took over as the deputy head of Ukrainian military intelligence in 2022, the SUS said. Another member of the conspiracy group is Mamuka Mamulashvili, a former adviser to Georgia's defense minister under Saakashvili, who then formed the 'Georgian Legion' – a paramilitary group that fought in Donbass since 2014 on the side of Kiev before officially joining the Ukrainian Armed Forces in 2016.
The group also includes other Saakashvili supporters both inside Georgia and abroad, and receives "coordination and financial support" from "foreign countries," the statement said. The coup plotters also set up a training camp for Georgian youth on the border between Ukraine and Poland to prepare them for a potentially violent "revolutionary scenario," it added, citing "verified information."
Several potential coup scenarios are currently in the works, the SUS said, adding that they involve setting up tent camps in the Georgian capital, Tbilisi, as well as barricading access to government buildings and detonating explosive devices in the tent camps to cause civilian casualties and spark clashes between the would-be protesters and police.
It is not the first such plan to provoke unrest in Georgia, the SUS said, adding that the conspiracy still "poses a much higher risk" and "threatens the security of the nation." The security service vowed to take all the necessary steps to avert this danger and to cooperate with "relevant agencies of the partner countries," but did not name any specific actions.
Saakashvili was voted out of office in 2012 and fled to the US. After a brief stint as a politician in Ukraine in 2015-16, he returned to Georgia. He is currently serving a six-year prison sentence for abuse of power and was slapped with additional charges last year, including for violently dispersing a 2007 anti-government protest in Tbilisi.
The politician insists that his prosecution was politically motivated. His defenders claim that Saakashvili, who has lost a significant amount of weight in custody, is not receiving adequate medical care.
You can share this story on social media: