Russia summons French envoy over Macron's G20 snub
Moscow has strongly protested what it called a "Russophobic" stunt at Emmanuel Macron's press conference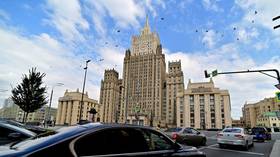 The Russian Foreign Ministry summoned the French ambassador to Moscow, Pierre Levy, on Monday over the treatment of Russian journalists at President Emmanuel Macron's press conference at the G20 summit more than a week ago.
RIA Novosti correspondents and the editor-in-chief from Russia-News media outlet were denied access to the event in a "brutal manner," the ministry said in a statement, calling the actions of the French authorities "discriminatory and openly Russophobic."
These actions "blatantly violate the principle of press freedom," the statement said, adding that the fact that the French authorities refused to apologize for the incident and sought to seize the Russian journalists' phones shows France's "determination to enforce a segregation regime against the Russian media."
Persecuting Russian journalists is one of the many ways the French authorities stifle dissent, the ministry said. Through the French ambassador, Moscow has demanded that Paris stop exerting pressure on undesirable media organizations. France should also stop discriminating against Russian media outlets and start treating them in the same open way that Russia treats French outlets, it added.
The incident took place during the G20 summit on September 9 and 10 in New Delhi, India. Russian Foreign Ministry spokeswoman Maria Zakharova called the actions of the French authorities a "wild manifestation of Nazism."
The EU banned all Russian 'state media' – from RT and Sputnik to public broadcaster VGTRK – and persuaded YouTube to enforce the ban globally when the conflict between Russia and Ukraine began.
Macron had a thorny relationship with Russian media long before the conflict broke out. His campaign refused to accredit reporters from RT and Sputnik back in 2017. Since then, RT crews have received an array of bizarre explanations to justify barring them from government events. In January 2018, RT France was blocked from covering Macron's visit to Rome.
In October 2023, a French government spokesman acknowledged that the Elysee Palace intentionally barred Russian media outlets from covering its events, as it considered them to be not "media, but propaganda."
You can share this story on social media: