MP proposes Russian citizenship for Ukrainian defectors
A lawmaker says Kiev's soldiers should be 'incentivized' to switch to Moscow's side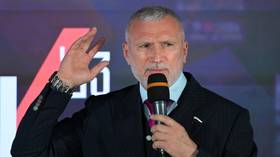 Ukrainian soldiers who defect to Moscow's side should receive Russian citizenship along with social benefits, the first deputy chairman of the State Duma's Defense Committee, Aleksey Zhuravlev, has said.
The proposal follows reports that a Ukrainian military pilot had defected to Russia, allegedly an active-duty serviceman who held the rank of "senior officer" in Kiev's armed forces.
In an interview with NEWS.RU published on Saturday, Zhuravlev said that if Ukrainians express a desire to fight on Russia's side, "they must receive citizenship immediately." He argued that they should also be "incentivized" to do so.
According to the lawmaker, "deserters are those who are fighting against Russia, who have fled their historical motherland." Personnel who defect to Moscow should "realize that they have returned to their motherland."
Zhuravlev, a member of the Liberal Democratic Party of Russia (LDPR) faction in the lower house of parliament, added that special services should work on an "individual basis" with all Ukrainians who switch sides, to identify war criminals among them.
The developments follow apparent failures in the Ukrainian offensive that began in early June. Kiev's troops have been unable to make significant changes on the frontlines, while suffering heavy losses in manpower and equipment.
In October, Russian President Vladimir Putin said Ukraine had lost more than 90,000 military personnel, over 500 tanks, and nearly 1,900 armored vehicles during the counteroffensive.
On Friday, Ukrainian President Vladimir Zelensky's top aide, Mikhail Podoliak, said the campaign was "not proceeding to the extent or at the speed we would like," and criticized the slow delivery of weapons from Western backers.
In early November, Ukraine's top military commander, General Valeriy Zaluzhny, said Kiev's forces were unlikely to make a "deep and beautiful breakthrough," warning that an attritional trench war could "drag on for years" and wear down the Ukrainian state.
You can share this story on social media: